Pleasant SimsVille
By Heather

Lot6:
Not exa
Hippie Haven Mobile Home Park
By Heather

Lot6:
Not exactly the most beautiful home for your sims, Hippie Haven features three mobile homes varying in style and class. The lovely siding created especially for mobile homes is decorative and stylish in a trailer park sense of the word. The dirt parking lot once had gravel, but the cost of gas drove the hauling prices up and they couldn't afford to have anymore delivered. Outside the lot owner had an abundance of outdoor lighting added to attract wary travelers before he rented the lots out to more permanent residents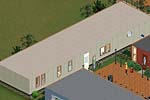 Grey Trailer: Marked by the surfboard near the entrance is the largest mobile home on the lot belonging to Happy Hippie. Happy's home has a spacious living area, spread out with the finest bubble furniture on the market. The master bedroom is a furnished with a fine peach-moss motif and timeless classic art. Lined with lovely yellow tiles and cute little ocean themed paintings, the main bathroom is sunny and warm.. A modest kitchen features a seafoam green beach-weathered wood dining set and kitchen set with fabulous built in appliances. Simple, yet elegant artwork really accents this room. Outside the back door is a nice little stone bench and a few fabulous flowers. The small laundry room doubles as a hallway from the kitchen to the guest bedroom which is as great as the master bedroom. The adjacent bathroom lined in light aqua marine is spacous and well stocked with a big soothing tub.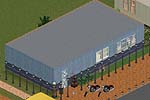 Blue Trailer: Last and least is the trashy blue mobile home passed down through the ages to the slovenly Billy Hill and Lota Hanky. Billy and Lota threw one party to many last night and the place is an awful mess. The garbage bins are full and it's doubtful Billy will clean it up any time soon and Lota is still passed out on the floor by the dog. Newspaper lays about the open kitchen and livingroom and the dog has messed all over them. On top of that the over abundance of bubbles in the air killed the poor dog and someone needs to drag him out and bury him. The neighbors get tired of his loud motorcycles going in and out of the lot and just thank the Lord Almighty that Billy and Lota don't have any children to pose as bad influences on their own. The bathroom is a complete mess and the tiles old and dirty. The bedroom needs a makeover badly with the make-shift furniture spread out through the house, it's astonishing that people actually live like this. The old furniture in the living room has seen about ten years too many.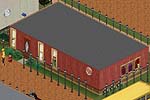 Red Trailer: The red mobile home owned by Citan, Lukan and Aakton Pritty have a quaint little kitchen with a stocked refrigerator. A tropical-styled living room is cozy with a few modern comforts. The walls are beautifully decorated with artwork hand-painted by Citan. One standard-sized bathroom with modest decoration is accessible through either the kids designer bedroom or the romantic master bedroom.